Personal Page of TDSB Trustee Don Valley North (Ward 13)
Welcome and thank you for visiting my personal website.
It is my pleasure to be the elected public school board TDSB Trustee for Ward 13 – Don Valley North. My role is to advocate for you and your child, and to represent the needs of all students and parents/guardians across the Toronto District School Board.
On this site you will find important information about our ward, its latest news, and upcoming community events. I encourage you to be involved in anyway you can when it comes to your child's education by attending school councils, ward forums, and actively reaching out to me on your thoughts. 
Please make sure to also subscribe to my community newsletter to get latest information on the TDSB and our community. 
James Li, TDSB Trustee Don Valley North (Ward 13)
Update: Selection Form for 2021-22 School Year
As shared in May, the Toronto District School Board (TDSB) will be asking all families to complete a Selection Form for In-Person or Virtual Learning for the 2021-22 school year.
Over the past several weeks, COVID-19 cases in Toronto have continued to decline, and we have seen significant progress with vaccines among adults and children aged 12-17. This is encouraging news, and we look forward to reconnecting all students to their home schools and welcoming them in person in September.
While requests for Virtual Learning will be accommodated where necessary, we strongly encourage all students to select In-Person Learning. Based on our TDSB data about how students feel they learn best, and available data with respect to students returning to in-person learning, we feel confident that this is the best choice for students following what has been a challenging year.
Families can complete the Selection Form for In-Person or Virtual Learning online from Thursday, August 5 to Thursday, August 12.
An email with a Selection Form link will be sent on Thursday, August 5. Families with two or more children will receive a separate email and link for each student. Families must complete the Selection Form using the link provided.
Those without an email address on file with the TDSB will receive a phone call to complete the Selection Form between August 10 and 12. Students will be placed in In-Person Learning if we do not receive a completed Selection Form by August 12.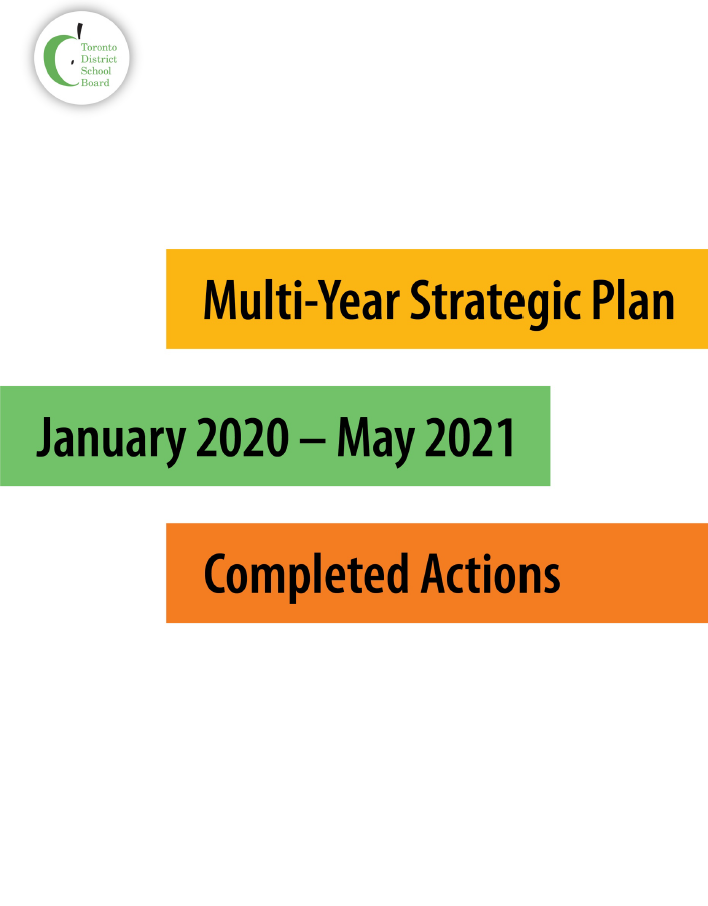 The Director's Annual Report for the Toronto District School Board was released on May 19, 2020. The report is a ministerial requirement that highlights some of the important work that is happening across the system and accomplishments from the past year.
Click on the image to see the Report.
Videos below can be found on TDSB's official YouTube Channel