Personal Page of TDSB Trustee Don Valley North (Ward 13)
Welcome and thank you for visiting my personal website.
It is my pleasure to be the elected public school board TDSB Trustee for Ward 13 – Don Valley North. My role is to advocate for you and your child, and to represent the needs of all students and parents/guardians across the Toronto District School Board.
On this site you will find important information about our ward, its latest news, and upcoming community events. I encourage you to be involved in anyway you can when it comes to your child's education by attending school councils, ward forums, and actively reaching out to me on your thoughts.
Please make sure to also subscribe to my community newsletter to get latest information on the TDSB and our community.
James Li, TDSB Trustee Don Valley North (Ward 13)
Remembrance Day
On Wednesday, November 11th, students and staff at our schools and across the city will mark Remembrance Day. For Remembrance Day, teachers make connections between global events and students' lives by promoting peace within our school community. On this solemn occasion, staff, students, parents, and the wider community all join together in a call for peace.
As a point of interest, TDSB's Danforth Collegiate and Technical Institute has the recognized distinction of having the greatest number of students, graduates, teachers, and other staff enlist in the military during the Second World War than any other school in the British Commonwealth.
________________________________________
In Flanders fields the poppies blow
Between the crosses, row on row,
That mark our place; and in the sky
The larks still bravely singing, fly
Scarce heard amid the guns below.
We are the Dead. Short days ago
We lived, felt dawn, saw sunset glow,
Loved and were loved, and now we lie,
In Flanders Fields.
Take up our quarrel with the foe:
To you from failing hands we throw
The torch; be yours to hold it high.
If ye break faith with us who die
We shall not sleep, though poppies grow
In Flanders fields.
 – John McCrae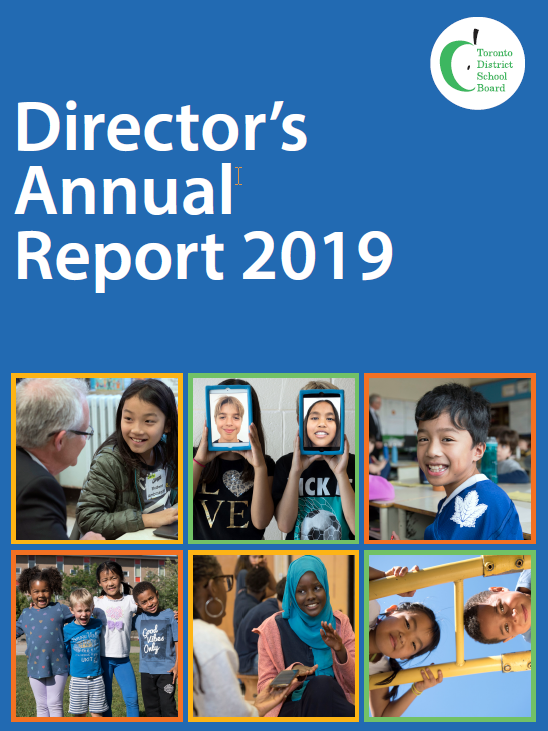 The Director's Annual Report for the Toronto District School Board was released on December 11, 2019. The report is a ministerial requirement that highlights some of the important work that is happening across the system and accomplishments from the past year. Click on the image to see the Report.